~ DIRECTORY ~


HOME PORT



PIRATE HISTORY

Pirates at Lake Chelan



Lake Chelan Dragon



Lake Chelan Mermaids



ABOUT LAKE CHELAN

Lake Chelan Valley



PIRATE BUS

Pirate Ship Bus



VOLUNTEER





SCHEDULE OF EVENTS

PIRATE CARNIVAL



4th of July Fun Run



Pirate Boat Cruise











ONLINE STORE





EVENT PHOTOS

Event Photos



PIRATE LODGING

Pirate Lodging



Pirate Camping



SPONSORS

2023 SPONSORS



VENDORS

2023 Pirate Market



DIRECTIONS

Getting Here



F.A.Q.

Frequently Asked Questions



Facebook






OTHER FESTIVALS

FESTIVALS



LEGAL

Terms & Conditions



CONTACT


SPONSOR INFO



VENDOR INFO



ENTERTAINER INFO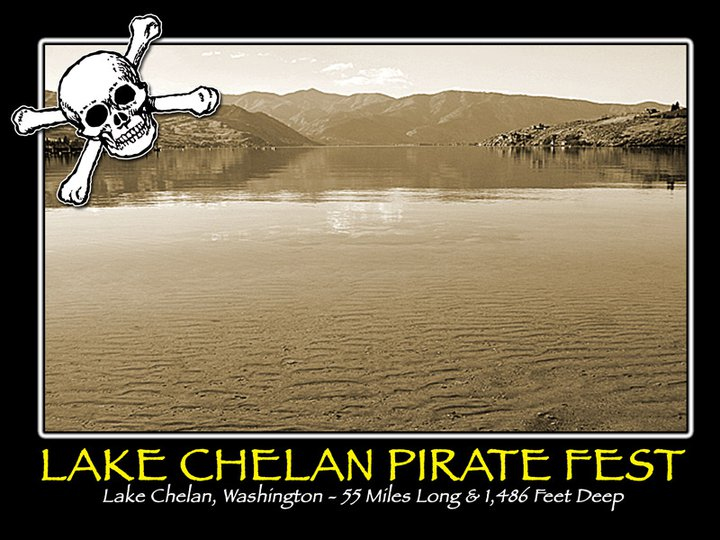 LAKE CHELAN PIRATE FEST:
History of the Lake Chelan Pirates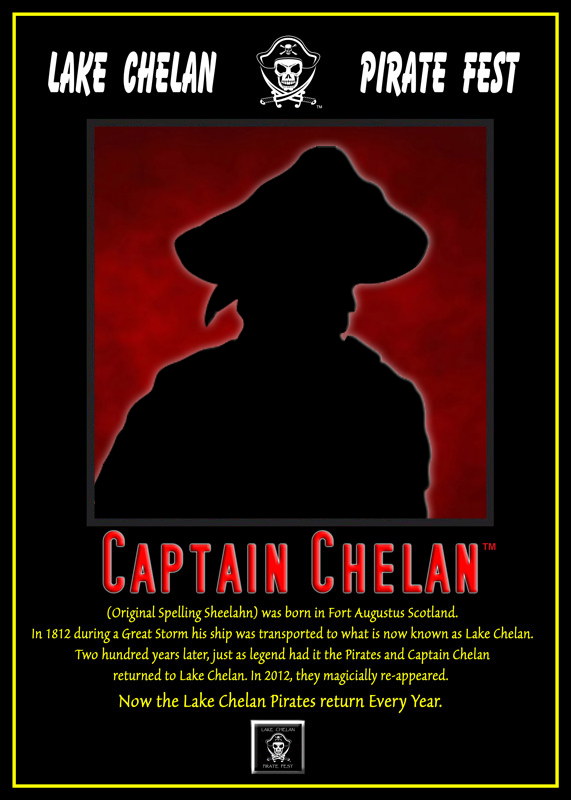 Two hundred years ago, a Scotsmen, born in Fort Augustus took a treasure chest from the Fort where his Father was a soldier, and it was assumed that the chest was filled with gold and other riches, and set out to sea on a long journey. However its true contents were discovered by the Captain and crew during a mysterious and violent storm off the coast of Washington in 1812.
Somehow the ship was transported to what is now known as Lake Chelan. The ship under great stress was tossed violently in the storm, and the chest and its contents were washed overboard into the water below. The Captain not willing to loose his mysterious prize dove into the water after it. He held on to the treasure chest and it took him quickly down to the crushing depths of the nearly 1,500 foot deep lake.
Unbeknown to the crew, two female stowaways were on board who kept watchful eyes on the chest. Stewards to its precious contents. They too, jumped in after the chest and as they hit the water the crew watched with disbelief as it appeared that their feet transformed into fish-like fins as they breached, then dove into the angry water. Mermaids! One went after the chest the other after the Captain. The Captain was taken to the shore and the chest was taken deep, deep down into a under water cavern. Where its contents, an egg, cracked open and a Hatchling emerged, the Lake Chelan Dragon!
That was the beginning of the legend. Two hundred years later, just as legend had it the Pirates and Captain Chelan returned to Lake Chelan. As per the calculations and with the help of the Chinese Zodiac Calendar, the Lake Chelan Pirates returned in 2012, the year of the Dragon. Now the Lake Chelan Pirates return every year.
Excerpt from "Lake Chelan Pirates" Copyright 2010
www.LakeChelanOnline.com, www.LakeChelanOnlineNews.com,www.LakeChelanEvents.com,www.LakeChelanPhotos.com,www.LakeChelanWeddings.org,www.LeavenworthOnlineNews.com